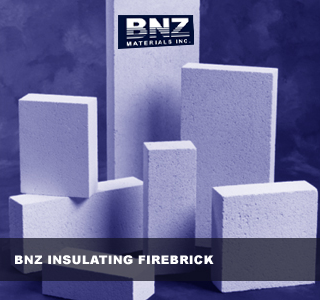 BNZ Sales Department Contacts
Mark Carson:
Phone: 800-955-8650
mcarson@bnzmaterials.com
USA Produced Insulating Fire Brick
Six Questions to ask yourself before purchasing imported IFB
How important are the dimensional tolerances?
Does the imported brick data reflect actual Refractory ASTM Standards?
How important are true brick properties, such as brick Thermal Conductivities, to your project?
On any project or repair, is it worth a possible failure to save 2-3%?
Should the brick fail, and after installing for a second time, how much am I really saving?
Should the brick not be within your standards or fail, who am I going to call to have the material returned or replaced?
Differences between some imported Insulating Fire Brick and USA produced BNZ Insulating Fire Brick
All brick is manufactured within ASTM Refractory Standards
All brick data, from properties to chemical analysis, is accurate
All brick is measured for dimensional tolerances
All brick is manufactured within OSHA requirements – Employee Rights and Safety
All brick is manufactured within the EPA standards – Environmental Protection
BNZ not only stands behind our insulating fire brick, but all our manufactured products. Should you need expert advice, have questions or have any material issues, as your partner, we are here to work with you.
BNZ Materials is a world leading manufacturer of specialty industrial insulation materials with over 16 types of Insulating FireBricks available for use in applications from 2000°F to 3200°F to meet the specific needs of a variety of industries.