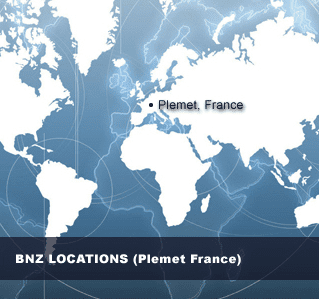 BNZ Location: Plémet France
BNZ Materials manufactures a series of FireBrick products in our Plémet France location. Our BNZ s.a. Grades include RI 23, RI 23 B, Calor A, Calor B, Calor CA and Calor 26 and 26 B. To learn more see below.


BNZ s.a.
Plémet, France
Les Landelles
22210 Plémet, France
Phone:+33-2-96 25 61 01
Fax: +33-2-96 25 64 18
bnz.plemet@wanadoo.fr

[

IFB SDS Plémet only]
BNZP 23 High melting point; used for glass furnace insulation as well as general furnace usage.
BNZP 25L is a higher cold crush strength version of BNZP 23. Used for anode baking furnaces worldwide.[/fusion_builder_column_inner]
Calor A is the traditional Grade 25 IFB for furnace and kiln applications.
Calor B is a stronger, denser version of the Calor A.
Calor CA is a high strength version of Calor A, used extensively for aluminum reduction cells worldwide with proven resistance to aluminum, metal and
associated process fluorides. Also used for general insulation as a high cold crush strength 25 grade insulation.
Calor 26 is a general purpose 26 grade insulations, suitable for anode baking furnaces and glass melting tank insulation.
BNZP
BNZP
BNZP
BNZP
BNZP
BNZP
BNZP
Calor
Calor
Calor
Insulating Fire Brick
23L
23
23B
25 L
26 A
26 HS
26
A
B
CA
OLD NAMES >>>>>>>>

Calor 23

RI 23

RI 23B

RI 25

RI 26A

RI 26HS

Calor 26

same

same

same

Classification Group

ISO 2245

125.0.5-L

130-0.7-L

130-0.7-L

135-0.7-L

140-0.7-L

140-1.0

140-0.8

135-0.8

135-0.9

135-1.1

ASTM C 155

23

23

23

25

26

26

26

25

25

25

Classification Temperature

°C

1250

1300

1300

1370

1400

1400

1400

1350

1350

1350

Density

ASTM C 134

kg/m3

595

650

700

670

830

900

820

820

900

1100

Cold Crushing Strength

ASTM C 133

MPa

1.3

2.0

2.0

2.0

5.0

5.0

2.2

2.5

4.0

5.4/12*

Permanent Linear Change

ASTM C 210

%

-0.5

-0.5

-0.5

-0.5

-0.5

-0.5

-0.5

-0.5

-0.5

-0.5

12h soak at Temperature, °C

1250

1300

1300

1340

1400

1400

1400

1350

1350

1350

Linear Thermal Expansion

0.5

0.5

0.6

0.5

0.6

0.6

0.6

0.5

0.5

0.5

  Reversible 20-1000 °C
Thermal Conductivity

ASTM C 182

W/mK

   Mean Temperature, °C
200

0.15

0.17

0.18

0.19

0.18

0.23

0.24

0.21

0.23

0.29

400

0.17

0.19

0.20

0.21

0.20

0.27

0.26

0.24

0.27

0.32

600

0.19

0.22

0.23

0.23

0.23

0.30

0.32

0.28

0.30

0.36

800

0.22

0.26

0.27

0.27

0.26

0.35

0.35

0.32

0.35

0.40

1000

0.25

0.30

0.32

0.33

0.29

0.40

0.39

0.37

0.40

0.45

Chemical Analysis

%

Al2O3
SiO2

97.0

91.9

91.9

91.9

90.3

90.3

93.1

92.4

92.4

92.4

Fe2O3
TiO2

1.9

1.5

2.5

2.1

2.3

2.3

2.1

2.3

2.3

2.4

CaO + MgO

0.5

0.5

0.5

0.6

0.4

0.4

0.4

0.6

0.6

0.4

Na2O+ K2O

0.6

4.0

4.0

4.1

3.7

3.7

3.5

4.5

4.5

4.0

Dimensional Tolerances

mm

± 1

± 1

± 1

± 1

± 1

± 1

± 1

± 1

± 1

± 1

* crushed on edge
The above physical and chemical properties of Insulating Fire Brick represent values obtained on standard squares in accordance with
accepted test methods and are subject to normal manufacturing variations. This information is supplied as a technical service and may
change without notice. Results should not be used for specification purposes.
Form
TDS Plemet
Effective:
Jan-11
Supersedes:
rev1