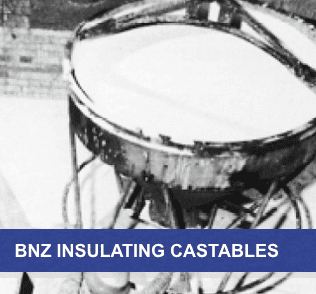 Insulating & Dense Castables
BNZ

manufactures a variety of insulating and dense castable refractories to meet the exacting needs of the high temperature processing industries. These hydraulic setting products are suitable for installation by various methods including gunning, casting or slap-troweling. Each product is specifically formulated to economically obtain the desired properties for the application and service temperature for which it is intended.

[Download the Castables summary data sheet]
---
Blazelite™ Insulating Castables

The unique aggregate used in BNZ Insulating Castables allows for the formulation of especially low density, thermally efficient products unsurpassed by other products.

Blazelite 2100
A general purpose lightweight castable for use as an exposed hot face refractory or as a very thermally efficient back-up to a dense refractory lining. Can be installed by casting, gunning or slap-troweling.

[download SDS]

Blazelite 2300
A lightweight, general purpose insulating castable. Can be used for back-up or exposed to furnace conditions. Used for one-shot linings, petrochemical heaters, combustion chambers and furnace doors and covers. Frequently used in those areas that would require a 2300°F (1260°C) Insulating Fire Brick.

[download SDS]

Blazelite 2300 LI and Blazelite 2300 VLI
Similar to Blazelite 2300 but suitable for those applications where reducing conditions might be encountered. These high purity, low iron products are specifically designed for both back-up and exposed to furnace combustion conditions.

[download SDS]

Blazelite 2500
An extremely strong insulating castable designed for general purpose use in those areas that require this combination of light weight and high strength, such as forge furnace doors and roofs, reheat furnace sub-hearths, petrochemical stills and heater linings, metal heating furnace hearths, cat-cracking units, reactor vessels, flue and duct linings and kiln car tops.

[download SDS]

Blazelite 2600 LI
A low iron, high purity castable for service to 2600°F (1427°C) in controlled atmosphere applications. Recommended for casting monolithic shapes and furnace linings.

[download SDS]

Blazelite 2000 G
Widely used for stack linings, heaters and vessels where a gunning mix with low rebound loss is required.

[download SDS][/fusion_builder_column_inner]

Blazecrete™ Gunning Mixes

Blazecrete 3000 G
High alumina castable for service to 3000°F (1667°C). Used in building new and repairing old refractory linings, for gunning

[download SDS]

Blazecrete 2300 ARG
An alumina-silica castable with high strength and abrasion resistance. For service to 2300°F (1260°C). May be gunned or slap-troweled over Blazelite 2000G to obtain a high strength hot face with a good insulating back-up. Suitable for ash pits, dust collector flues and other areas where abrasive or erosive conditions exist.

[download SDS]

Blazecrete™ Castables

Blazecrete 3200
A high alumina castable for service to 3200°F (1778°C). It has good volume stability, extremely high modulus of rupture and crushing strength, and is of high purity for special furnace atmospheres. Designed for use in casting burner blocks, roof centers in electric arc furnaces, continuous casting tundish covers, incinerators, and other areas where these extremely high temperatures are encountered.

[download SDS]

Blazecrete 3000
A high alumina, high strength, general purpose castable for service to 3000°F (1667°C). Used for casting burner blocks, door linings, car tops, crucible furnace linings and special shapes. High purity for special furnace atmospheres.

[download SDS]

Blazecrete 2800
An economical, high alumina refractory for service to 2800°F (1556°C). Suitable for door linings, curbs and covers, pre-cast shapes, grey iron ladles, aluminum reverberatory furnace upper side walls and roofs.

[download SDS]

Blazecrete 2600
A general purpose castable for service to 2600°F (1427°C). It is especially effective in casting door linings, boiler walls, monolithic car tops, hearths, fire boxes, as well as safety linings in continuous casting tundishes.

[download SDS]

Blazecrete 2500 HS
A high-duty castable designed to withstand loads and resist normal abrasion and erosion at moderate temperatures to 2500°F (1371°C). Use with Blazelite 2100 for a dual component lining for combined high strength and insulation. Used for ash hoppers, incinerator floors, dust collector linings, cupola charging zones and fireplace sidewalls and hearths.

[download SDS]
Insulating Castables and Gunning Mixes
Properties

Blazelite
2000
Blazelite
2100
Blazelite
2300
Blazelite
2300 LI
Blazelite
2300 VLI
Blazelite
2500
Blazelite
2600 LI

Maximum Service Temperature, °F(°C)
2100 (1149)
2100 (1149)
2300 (1260)
2300 (1260)
2300 (1260)
2500 (1371)
2600 (1427)

Yield,

lbs dry mix required per cu. ft.
of construction without rebound (kg/m3)

62 (993)
60 (961)
64 (1025)
54 (865)
59 (945)
79 (1265)
74 (1185)

Density,

lb/ft3 (kg/m3)
Fired 5 hrs. at 1500°F (816°C)

64 (1025)
65 (1041)
70 (1121)
61 (977)
66 (1057)
78 (1249)
72 (1150)

Mixing Water Required,

(Approx)
U.S. qt/100 lb dry material
(Liter/100 kg dry material)

26
54
25
52
30
63
32
67
31
65
20
41
24
49
Modulus of Rupture,psi (kg/cm²)
(MPa) ASTM C 258
Dried at 220°F (104°C)
150 (1.03)
160 (1.10)
130 (0.90)
130 (0.90)
140 (0.97)
330 (2.78)
240 (1.65)
Fired at 1000°F (540°C)
70 (0.46)
120 (0.83)
70 (0.48)
150 (1.03)
80 (0.55)
160 (1.10)
160 (1.10)
1500°F (815°C)
90 (0.62)
150 (1.03)
80 (0.55)
60 (0.40)
90 (0.62)
140 (0.93)
110 (0.76)
2000°F (1095°C)
90 (0.62)
130 (0.90)
90 (0.62)
50 (0.34)
90 (0.62)
120 (0.83)
120 (0.83)
2300°F (1260°C)
200 (1.38)
90 (0.62)
140 (0.97)
200 (1.38)
100 (0.69)
2500°F (1371°C)
290 (2.00)
300 (2.07)
Cold Crushing Strength, psi (kg/cm²)
Dried at 220°F (104°C)
600 (4.13)
400 (2.75)
400 (2.75)
700 (4.82)
600 (4.13)
1500 (10.33)
700 (4.82)
Fired at 1000°F (540°C)
430 (2.96)
390 (2.69)
320 (2.21)
410 (2.82)
310 (2.14)
1200 (8.27)
1000 (6.89)

1500°F (815°C)
420 (2.90)
570 (3.93)
500 (3.45)
410 (2.82)
370 (2.55)
1200 (8.27)
700 (4.82)
2000°F (1095°C)
340 (2.34)
420 (2.84)
270 (1.86)
320 (2.20)
310 (2.19)
800 (5.51)
700 (4.82)
2300°F (1260°C)
550 (3.79)
430 (2.96)
550 (3.86)
1100 (7.58)
700 (4.82)
2500°F (1371°C)
1400 (9.65)
700 (4.82)
Permanent Linear Change, %
ASTM C 269
Fired at 1000°F (540°C)
– 0.1
– 0.2
– 0.2
– 0.1
– 0.1
– 0.2
– 0.2
1500°F (815°C)
– 0.2
– 0.2
– 0.1
– 0.2
– 0.2
– 0.2
– 0.2
2000°F (1095°C)
– 0.3
– 0.2
– 0.2
– 0.4
– 0.2
– 0.2
– 0.2
2300°F (1260°C)
– 0.9
– 1.0
– 0.7
– 0.5
– 0.5
2500°F (1371°C)
– 0.7
– 2.1
Chemical Analysis,%
fired basis per ASTM C 573
Alumina – Al2O3
34.0
35.3
43.9
41.3
47.8
43.6
51.0
Silica – SiO2
40.1
40.5
43.8
41.0
35.0
38.2
40.1
Ferric Oxide – Fe2O3
6.5
4.0
3.2
0.9
0.5
2.7
0.8
Titania – TiO2
1.9
1.7
1.8
1.6
1.0
1.0
1.2
Calcium Oxide – CaO
15.8
16.9
6.7
14.1
15.1
13.6
4.7
Magnesium Oxide – MgO
0.3
0.5
0.2
0.2
–
0.4
0.1
Alkalies, as Na2O & K2O
0.8
1.1
0.9
1.2
0.9
0.5
0.1
Others
2.0
ASTM Class C 64 & C 401
P
P
P & Q
O, P & Q
P & Q
Q
Q
Thermal Conductivity

---

Dense Castables and Gunning Mixes
Properties
Blazecrete
2300 ARG
Blazecrete
3000 G
Blazecrete
2500 HS
Blazecrete
2600
Blazecrete
2800
Blazecrete
3000
Blazecrete
3200
Maximum Service Temperature, °F(°C)
2300 (1260)
3000 (1649)
2500 (1371)
2600 (1427)
2800 (1537)
3000 (1649)
3200 (1760)

Density,

lb/ft3 (kg/m3)
Fired 5 hrs. at 1500°F (816°C)

120 (1922)
130 (2082)
124 (1986)
130 (2082)
128 (2050)
135 (2162)
149 (2387)

Mixing Water Required,

(Approx)
U.S. qt/100 lb dry material
(Liter/100 kg dry material)

7
(15)
7
(15)
6
(12)
7
(15)
6
(12)
5
(10)
4
(8)
Modulus of Rupture,psi (MPa)
ASTM C 268
Dried at 220°F (104°C)
1100 (7.6)
200 (1.4)
1100 (7.6)
400 (2.8)
500 (3.4)
700 (4.8)
1000 (6.9)
Fired at 1000°F (540°C)
300 (2.1)
100 (0.7)
300 (2.1)
130 (0.9)
200 (1.4)
400 (2.8)
700 (4.8)
1500°F (815°C)
300 (2.1)
100 (0.7)
300 (2.1)
100 (0.7)
150 (1.0)
300 (2.1)
700 (4.8)
2000°F (1095°C)
200 (1.4)
130 (0.9)
200 (1.4)
100 (0.7)
200 (1.4)
300 (2.1)
700 (4.8)
2300°F (1260°C)
300 (2.1)
200 (1.4)
300 (2.1)
200 (1.4)
300 (2.1)
500 (3.4)
1200 (8.3)
2500°F (1371°C)
250 (1.7)
700 (4.8)
600 (4.1)
500 (3.4)
800 (5.5)
1400 (9.6)
At Use Limit
1000 (6.9)
700 (4.8)
900 (6.2)
1000 (6.9)
1200 (8.3)
Cold Crushing Strength, psi (MPa)
Dried at 220°F (104°C)
7100 (48.9)
1200 (8.3)
8000 (55.2)
2600 (17.9)
3000 (20.7)
4200 (28.9)
8400 (57.9)
Fired at 1000°F (540°C)
3200 (22.4)
1100 (7.6)
6400 (44.1)
2100 (14.5)
2200 (15.2)
4300 (29.6)
5300 (36.5)
1500°F (815°C)
3500 (24.1)