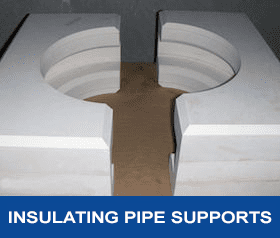 BNZ Sales Department Contacts
Mark Carson:
Phone: 800-955-8650
mcarson@bnzmaterials.com

Insulating Pipe Supports
BNZ Marinite is the perfect structural insulation material for use when designing a pipe support system. BNZ Marinite offers the maximum insulation from the outside wall.
Advantages of Marinite Insulation Pipe Supports:
The supports can be fabricated off site and installed in the field as needed
Fabricating parts off site in a safe environment can help lower labor costs and potential damage.
Prefabrication of an entire pipe section in house can eliminate in the field down time.
Having structurally sound Marinite insulation as your support can help eliminate the need for costly repairs and replacement.
---